John Coltrane departed this mortal plane more than fifty years ago; today he remains among us, more alive than ever. His sound continues to grab the ears of an ever-widening circle of fans. His legend is stone solid: planted firmly in our culture as that of any 20th century musical giant. His saxophone sound—brooding, searching, dark—is still one of the most recognizable in modern jazz. His influence stretches over styles and genres, and transcends cultural boundaries. The modern ideal of music serving a deeply spiritual, connective purpose? A defining facet of John Coltrane.

To Coltrane, a musician was a message-giver; making music was an endeavor tied to a larger, greater good. "I humbly asked to be given the means and privilege to make others happy through music," Coltrane wrote in 1964 in a letter to his listeners, telling of a prayer to God. In 1966, less than a year before his death, he stated:
"I know that there are bad forces, forces that bring suffering to others and misery to the world. I want to be the opposite force. I want to be the force which is truly for good."
Coltrane achieved his goal as a hard-working jazz player coming out of a proud, rooted musical tradition, paying his dues as a sideman, learning the ropes as a leader, working with primarily wordless music to convey his message. He released twenty-five albums as a leader during his lifetime, some attaining five-star, classic status: Blue Train, Giant Steps, My Favorite Things, his Grammy-nominated, "humble offering" to God, A Love Supreme. One after another, from 1957 to '67, his music defined a comet-like path of rapid growth and dizzying rate of change. That Coltrane accomplished all he did in a mere ten years accounts at least partly for the saint-like devotion he often receives.

Jazz journalist Nat Hentoff, who interviewed and championed Coltrane, praised him more soberly. "By the time A Love Supreme hit, Trane struck such a spiritual chord in so many listeners that people started to think of him as being beyond human. I think that's unfair. He was just a human being like you and me -- but he was willing to practice more, to do all the things that somebody has to do to excel. The real value in what John Coltrane did was that what he accomplished, he did as a human."

Certain aspects of Coltrane's humble beginnings point to what he would become. Being born in 1926 in small-town North Carolina—specifically Hamlet, and later High Point—helps explain his predilection for the blues. His affinity for a distinct, gospel feel—meditative, prayer-like songs and the preacher-like tone in his saxophone—can be partially credited to being raised in a religious family. His father preached, and his grandfather was a community leader and minister. In 1938 both passed away suddenly, then Coltrane's grandmother and an aunt—all within months of each other. Coltrane himself was barely twelve. The family was devastated, emotionally and economically. Having just taken up the clarinet, music became a lifeline of sorts for Coltrane.

Timing had much to do with building Coltrane's musical foundation as well. Being born in '26 meant that by his teenage years he was hearing the popular songs and sophisticated arrangements at the height of the big band era. As he approached adulthood in the mid '40s, the bebop of alto saxophonist Charlie Parker and trumpeter Dizzy Gillespie grabbed the ears of his generation. Johnny Hodges, the longtime alto saxophonist in Duke Ellington's famed orchestra; and Dexter Gordon, the tenor-sax playing, first-generation bebopper, were two of Coltrane's earliest heroes.
Bebop was a new exciting language that snapped and popped with a fresh, rhythmic freedom, and expanded the harmonic bandwidth of the music—requiring an under-the-hood familiarity with the mechanics of music. Coltrane, already an autodidact, was hooked, intellectually and emotionally.

Coltrane moved to Philadelphia in 1943, following other family members, and immediately threw himself into the local music scene, meeting other young, bebop-focused players, like saxophonists Jimmy Heath and Benny Golson. A stint in the Navy in the closing days of World War II gave him the chance to use the G.I. Bill to take music classes after his discharge, and dedicate himself to music as a profession.

Philadelphia featured one of the most developed and vibrant African American communities in the post-WWII years. The black parts of town were filled with bars, clubs, and theaters, all requiring live music of all styles. Despite his dedication to bebop, Coltrane became a journeyman musician on the circuit, blowing alto saxophone and playing whatever the gig required.

Coltrane's apprenticeship took place from 1946 to 1955. He was a horn-for-hire, blowing the blues out front of small groups, backing various jazz and R&B singers, adding to the punch and blend of the sax section in a number of big bands. He worked his way up the ranks, from local groups (Jimmy Heath's big band for one; Bill Carney's Hi-Tones, a small R&B outfit, for another) to national ensembles in the early '50s—like big bands led by saxophonists Johnny Hodges, and Earl Bostic, and Dizzy Gillespie, the latter demanding he switch from alto to tenor saxophone. Coltrane followed orders, and his development continued.

It was during this endless succession of gigs and travel when Coltrane first tried narcotics; by 1951, like too many of his peers, he acquired a heroin habit that would stay with him for six years.

Coltrane was playing in organist Jimmy Smith's group at the end of summer 1955 when a call came from New York City to audition for trumpeter Miles Davis's band. Despite Coltrane's initial uncertainty—"I am quite ashamed of those early records I made with Miles. Why he picked me, I don't know", he later said—Miles liked what he heard. "After we started playing together for a while, I knew that this guy was a bad motherfucker," Davis wrote in his autobiography. "[He] was just the voice I needed on tenor to set off my voice."

The four years Coltrane spent in Davis's group—from 1955 through '59—catapulted the unknown saxophonist from local obscurity to national renown. Under the spotlight that came with playing alongside Davis, Coltrane evolved from what many heard as faltering insecurity to bold, chance-taking confidence. True to Miles's words, the intensity and density of Coltrane's saxophone was an effective foil to Davis's subdued melancholy on trumpet. They had been born the same year and grown to be so different in temperament. Yet they were, at the core, equal in their obsession with the inner workings of music theory, and in their need for musical challenge and surprise.

Davis provided Coltrane an open-ended, instruction-less freedom to explore and find his own voice; Coltrane referred to him as "Teacher". Save for nine months in 1957 when the trumpeter unceremoniously fired him due to his heroin use impeding his appearance and performance—after which Coltrane kicked his habit cold turkey—their relationship remains one of the most fruitful and significant in jazz history.

1957, in fact, was the year Coltrane truly became Coltrane. During that twelve-month period, his compulsion to practice incessantly led to the first phase of his signature style: slaloming through changes, playing and replaying scalar patterns, an outpouring of harmonic stacking the critic Ira Gitler famously dubbed "sheets of sound." Once clean and back on the scene as a freelancer, Coltrane's workaholic nature propelled him into the studio—as sideman on many tracks, recording his debut as a leader (Coltrane on Prestige), and the first album to reveal his gifts as a composer (Blue Train on Blue Note).
No event in '57 proved more enduringly significant to Coltrane than his summer-long collaboration with the pianist/composer Thelonious Monk, of which Coltrane said:
"I learned from him in every way – through the senses, theoretically, technically."
Monk's tutelage—more direct and patient than Miles—helped him grasp music riddled with strange melodic leaps and rhythmic breaks, and appealed with its own logic. When Coltrane returned to Miles's group at the end of that year, the trumpeter was on his own way to developing a new vocabulary.

The timing could not have been better. Miles's shift from traditional, chord-based song forms to more open-ended, modal structures provided a needed freshness that helped improvisers avoid the same old bebop clichés. This "modal jazz" was the foundational idea to what is still Miles's most famous album, 1959's Kind of Blue. For Coltrane, it was like pouring high-octane into a turbo-charged engine. Liberated from the meticulous pathways in Monk's music, he dove with gusto into the harmonic freedoms that modal jazz offered, absorbing and later developing the same ideas further in his own groundbreaking groups of the 1960s.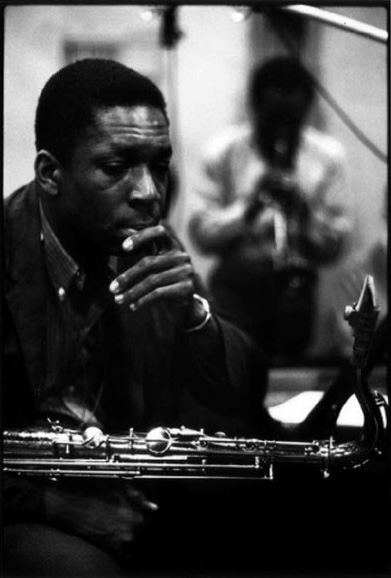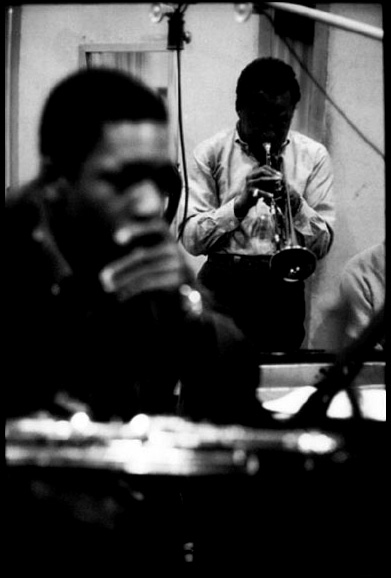 "Miles's music gave me plenty of freedom," he said. "It's a beautiful approach...I found it easy to apply harmonic ideas that I had."
By the end of 1959, Coltrane was 33. While Miles tried to keep him in his group, it was clear he was itching to go his own way. He began gigging with his own bands, and continued writing material. He had a booking agent and a lawyer, both recommended by Miles, the latter who helped him start his own music publishing company (Jowcol Music) and jump from his Prestige to a more lucrative contract with the midsize Atlantic Records, a label known as much for its R&B successes as for releasing jazz records.

1959 to '61 mark Coltrane's Atlantic period, during which he recorded one of his most important albums—Giant Steps—featuring timeless tunes like "Naima", "Cousin Mary", and the title track; collectively they served as a masterful farewell to the labyrinthine chord changes of the bebop world. He began to focus more on the highly emotional, melody-driven influence of the avant-garde jazz of the time, inspired greatly by the music of Ornette Coleman—the Texas-born saxophonist who had turned the jazz world on its ear upon arriving in New York City in 1959.

Coltrane often visited and in fact received instruction from Coleman; "He was interested in non-chordal playing and I had cut my teeth on that stuff," Coleman reported years after. "He later sent me a letter which included thirty dollars for each lesson . . ."

In his last year with Atlantic, Coltrane added the soprano saxophone to his repertoire and the pianist McCoy Tyner to his band. The confluence of the two led him to record the waltz-time Broadway show tune "My Favorite Things" (from the musical The Sound Of Music) as a raga-flavored, modal piece; the unlikely reimagining became a radio hit and his biggest commercial success.
By the end of 1961, Coltrane was able to push higher, signing with Impulse Records—the jazz imprint within the major label ABC-Paramount Records. It was with Impulse—from '61 through his death in July '67—that Coltrane would reach his highest career crest, and reveal the full range of his projects: first with his quintet that featured saxophonist/flutist Eric Dolphy, then his so-called "Classic Quartet" (with Tyner, drummer Elvin Jones and bassist Jimmy Garrison), various big band efforts (Africa/Brass, Ascension), and finally the quintet that included Garrison, his wife, pianist Alice Coltrane, saxophonist Pharoah Sanders, and drummer Rashied Ali.

Coltrane's Impulse recordings, from 1961 through most of '64, show him with one foot in the more traditional jazz world, playing standards (Ballads) and collaborating with the likes of the legendary Duke Ellington and vocalist Johnny Hartman, while the other foot rested in more avant-garde territory. His release schedule balanced fiery, live recordings (Live! at the Village Vanguard, Live at Birdland, some tracks on Impressions) with studio recordings sharing a softer, more meditative side to his composing (other tracks on Impressions, Coltrane, Crescent). By the early '60s, Coltrane was a nightclub and festival headliner, a force in terms of record sales and box office receipts, and a major influence on many of his peers—his albums by then were required listening for jazz, R&B, and rock players alike.

Coltrane recorded A Love Supreme at the end of '64, calling it his "attempt to say 'THANK YOU GOD' through our work"—a musical offering in gratitude for his spiritual re-awakening in '57, the year he rid himself of his drug habit. It was a four-part suite, the first of a series of larger works that held to a higher intent and focus. It was carefully composed and planned in September '64, just after the birth of his first son John Jr. with his new wife, the Detroit-born, bebop-enthused Alice Coltrane—née McLeod.
Their relationship would prove to be one of the most prodigious and prolific husband-wife pairings of the jazz world. John's musical and spiritual influence on Alice would redirect her life and career. After his death, she carried his music and universalist message forward in her own way, fusing modern jazz, Indian ragas, and Vedic devotional songs on eighteen very special albums, and eventually put her career aside to establish and lead an ashram of spiritual followers in southern California.

A Love Supreme was atypical for a jazz recording in many ways. It included Coltrane's voice, chanting the album's title. The album cover featured a letter to the listener and a poem, both penned by Coltrane and both espousing a universalist spirituality, and addressing his role as a musician. When released in early '65, it quickly became Coltrane's best-known album, a kind of musical self-portrait that earned him two Grammy nominations, induction into Downbeat magazine's Hall of Fame, and a newer generation of fans—many of who were likewise looking to alternative spiritual paths. A few weeks before Coltrane composed A Love Supreme, jazz writer Leonard Feather noted that his "most devoted followers are young listeners" and asked how they could fully appreciate music that "demands technical knowledge and intense attention."
"As long as there is some feeling of communication, it isn't necessary that it be understood," Coltrane replied. "After all, I used to love music myself long before I could even identify a G minor seventh chord…eventually the listeners move right along with the musicians."
Coltrane's put this truism to the test through 1965 as his musical explorations— inviting other players into his band, writing music that grew increasingly discordant, dense, and multi-rhythmic—tested the patience of both his audience and members of his Classic Quartet. Before the year was out, both Tyner and Jones departed: Alice took over the piano seat, the young Rashied Ali was added on drums, and Pharoah Sanders on second saxophone.
From 1966 until his death in '67, Coltrane was seen as the point of the spear by a new generation of jazz avant-gardists—a generation more politically charged and socially conscious than those before, and whose music reflected the growing political outrage of the time. Coltrane himself remained a humanist, more in tune with the non-violent philosophy of Dr. Martin Luther King, Jr., than the confrontational attitude of Malcolm X or the Black Panthers. Yet his music was an indelible part of the soundtrack of that turbulent era, and the recordings he made between '65 and '67 remain the most controversial of his entire career.

Through the last months of his life, Coltrane continued to push ahead with sessions that swung between tracks that could be grating and intense, and sonic tapestries deeply introspective and calm. The musical seeds that sprouted during the A Love Supreme sessions predicted where Coltrane would go with his music. His measured key-hopping on "Acknowledgement" presaged a passionate atonality. His chanting was heard again on the album Om. His love of poetry resurfaced on Kulu Se Mama. His hymn-like titles became an unbroken theme—"Dear Lord", "Welcome", "The Father, the Son and the Holy Ghost"—their meditative sonority reflecting that of A Love Supreme.

In the last year of his life, as Coltrane's reputation and notoriety reached its highest level, those close to him were aware something was wrong. He was often in pain, suffering from liver cancer, as it was later learned. Yet Coltrane did not let up. He continued to perform and record, only weeks before his passing on July 17, 1967. The impact on the music scene was seismic; he left behind a stunned community of musicians, as well as his wife Alice, a daughter Michelle and three sons—John Jr., Ravi, and Oran—and a catalogue of recordings from which music continues to be issued and reissued.

Coltrane died in mid-search, musically driven till the end. As he told Nat Hentoff in late '66:
"There is never any end…there are always new sounds to imagine, new feelings to get at. And always there is the need to keep purifying these feelings and sounds so that we can really see what we've discovered in its pure state. So that we can see more and more clearly what we are . . . we have to keep on cleaning the mirror."
Many have sought the same purification and, through their creative process, achieved it. Yet few have searched as deeply, provoked as consistently, succeeded as profoundly as Coltrane. Even fewer have ended as they began: still challenging themselves and their audience.

Still Coltrane rises, in stature and significance. His compositions and recordings are now permanent parts of the canon of great American music, recognized by the Library of Congress, with many inducted into The Grammy Hall of Fame; all are now required study for young musicians hoping to unlock the secrets of the jazz tradition. In today's mainstream media, Coltrane is often name-checked on television shows and referenced in major Hollywood films like "Malcolm X", "Mo Better Blues", "Jerry McGuire", "Mr. Holland's Opus", and many others. There's even a street named in his honor at Universal Studios Hollywood, close to the Universal Music archives where many of his original reel-to-reel masters are shelved.
Posthumous honors persist: in 1995, the United States Postal Service placed Coltrane on a commemorative postage stamp. In '97, he was bestowed the Grammy Lifetime Achievement Award. In '01, the National Endowment for the Arts chose "My Favorite Things" for its list of 360 Songs Of The Century. In '07, Coltrane was awarded a Pulitzer Prize, as a Special Citation for a lifetime of innovative and influential work.

All distinctions aside, it's clear that Coltrane's importance today rests in his enduring role as a paragon of artistic sacrifice and spiritual vision, an original voice who sits atop the pantheon of African American cultural heroes. The inspiration his legacy continues to instill remains as strong as it is necessary—evidence of the unifying power of music: an argument to cherish our collective heritage; a dictate to listen to and learn from each other.

In 2009, a new President was elected and in the private residence of the White House he hung a candid portrait of Coltrane snapped by the photographer Jim Marshall, showing the saxophonist in a particularly pensive moment backstage in 1966. A few weeks later, the Coltrane family received a photo of the President contemplating the image, with the inscription:

"…from a huge fan of your father's, Barack Obama."

— By Ashley Kahn